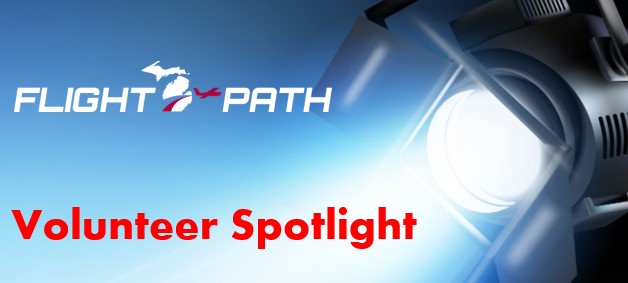 Meet our Volunteers!
Flight Path would not exist without an enthusiastic group of dedicated volunteers who love to share their excitement for aviation.  You can learn more about each of them below.  If you would like to become a Flight Path volunteer and introduce young people to the excitement of aviation through our Flight Night program, please use the contact form at the bottom of this page to get in touch with us.  Volunteers do not have to be pilots, they just need to enjoy aviation and have a desire to share it with others!
SIGN-UP TO VOLUNTEER ON THE FORM AT THE BOTTOM OF THIS PAGE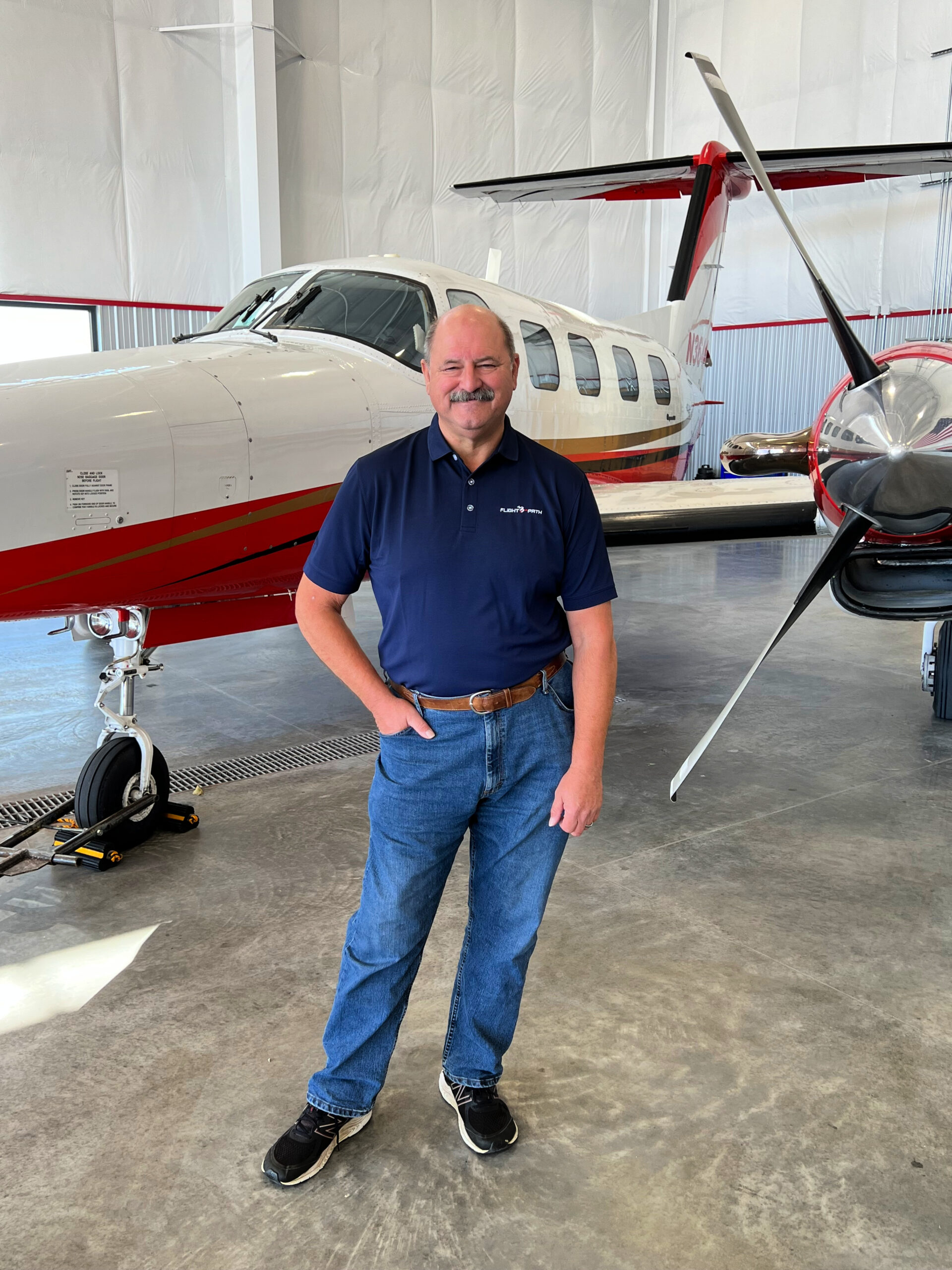 Terry Alberta
When Terry was ten, his parents took him on an airline flight, and from that day on he was hooked on flying. He was the first and only aviator in his family. He wanted to be a military pilot but in those days perfect vision was a requirement.  Terry decided "If I can't fly em, I'll work on em!"  He enlisted in the Marine Corps and was trained to be a jet engine mechanic.  After being discharged from active duty, he learned to fly in Grand Rapids, and was also able to use his military experience to get an aviation mechanic certification. Terry was a pilot for skydivers for five years, he flew with a charter operation, and flew for Fedex for almost 19 years.  He is now chief pilot for a jet charter company, and is also a flight instructor for VFR and instrument instruction.  His personal aircraft is a Cessna 172.  Terry enjoys volunteering for FLIGHT NIGHTS where he is able to help young people understand the "flying and fixing" sides of aviation.  He is also a volunteer pilot for STEM Flights.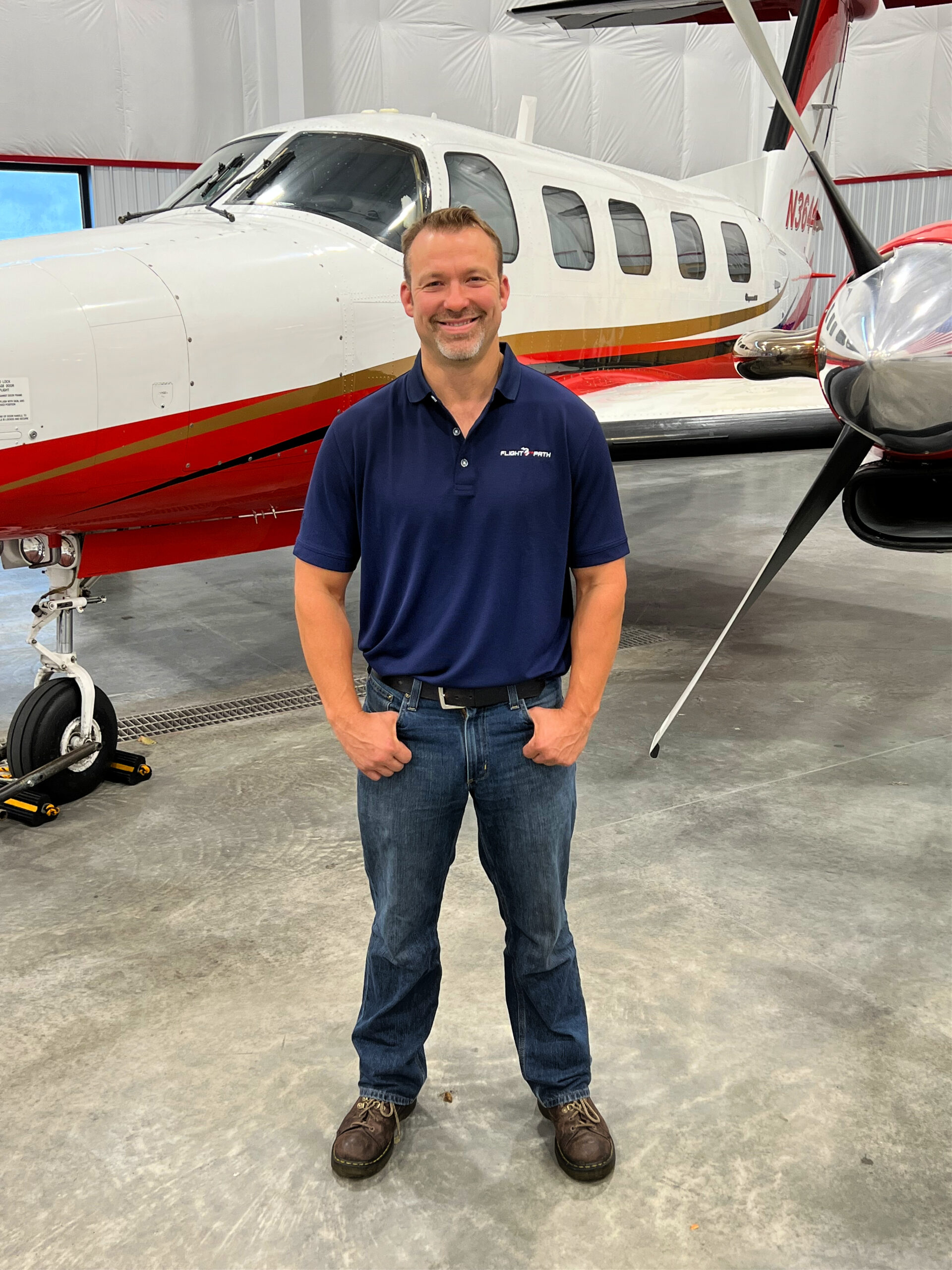 Jaron Prielipp
Jaron grew up in Olivet, Michigan. He became interested in aviation when his uncle would land his airplane in the hayfield at their farm and then take him flying.  Jaron went on to pursue the Aviation Flight Science Program at Lansing Community College.  He became a CFI (certified flight instructor) and trained beginning, advanced and other CFI pilots.  He took his son to a Flight Night at the airport and immediately knew he wanted to be a part of the program as a volunteer. "The Flight Path group offers a fantastic program to introduce kids to all the different fields that aviation has to offer.  The Flight Night program also lets them get hands-on experience flying and it's a really cool thing!  The best part though is seeing them leave with smiles on their faces and that dream in their eyes!"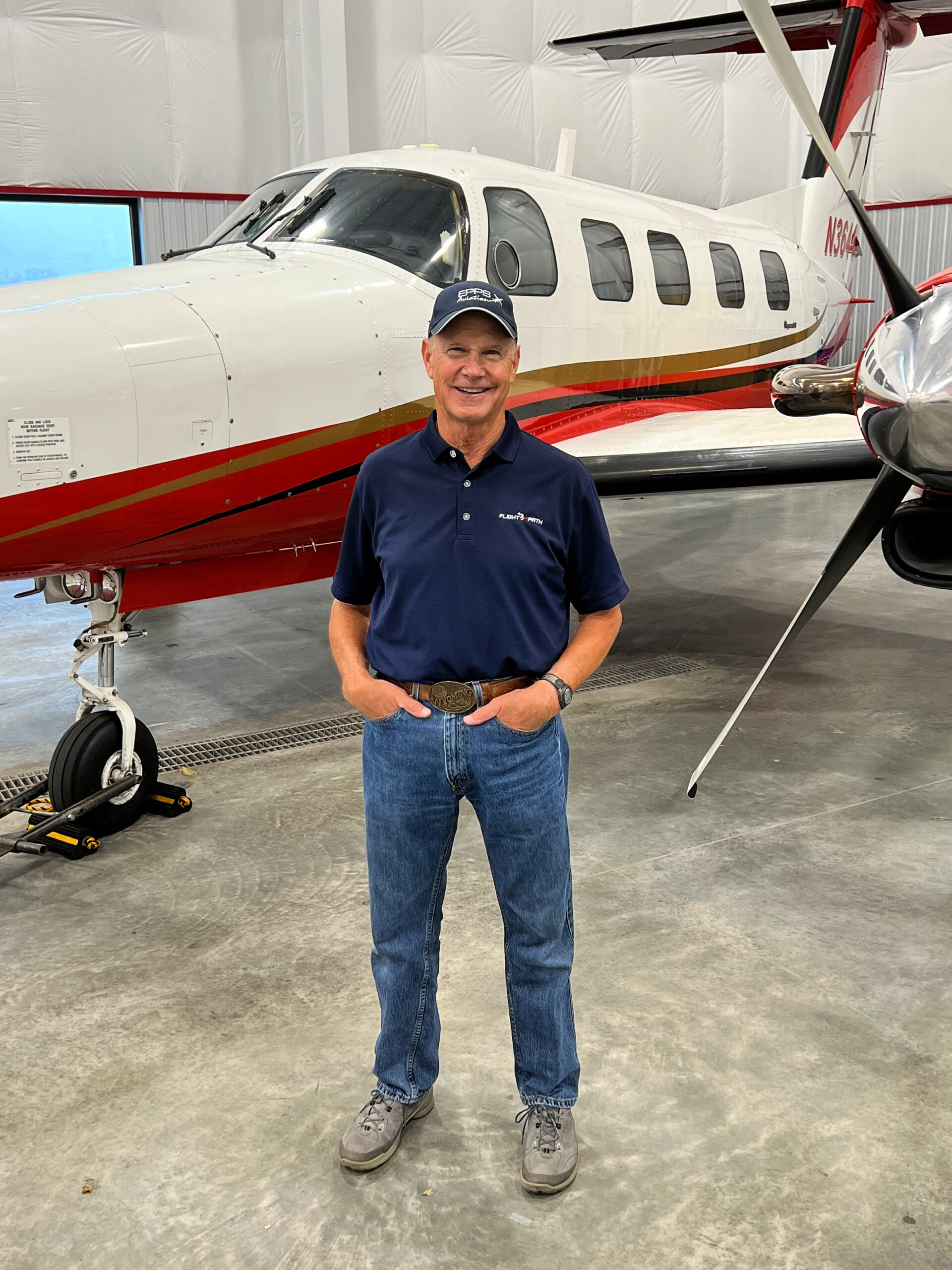 Bruce Wickmann
Bruce grew up in an aviation family. His father was a professional corporate pilot for a company in Detroit.  He started flying lessons at 5 and soloed shortly after his 16th birthday.  He got his private license on his 17th birthday and completed a commercial license and instrument rating while attending Western Michigan University.  Bruce flew many charter flights while at Western and took a corporate flying job after graduation.  Bruce flew for four different corporate flight departments throughout his career and logged over 15,000 hours of flight time. In 2021 he started flying again for fun and bought a twin engine airplane in 2022.  "Once a pilot, always a pilot, even if just in your dreams".  Bruce enjoys flying and sharing the dream with young people by volunteering at Flight Path. "I hope to help young students explore career paths into the field of aviation. It is a real joy to watch these young people absorb aviation information and fly our simulators."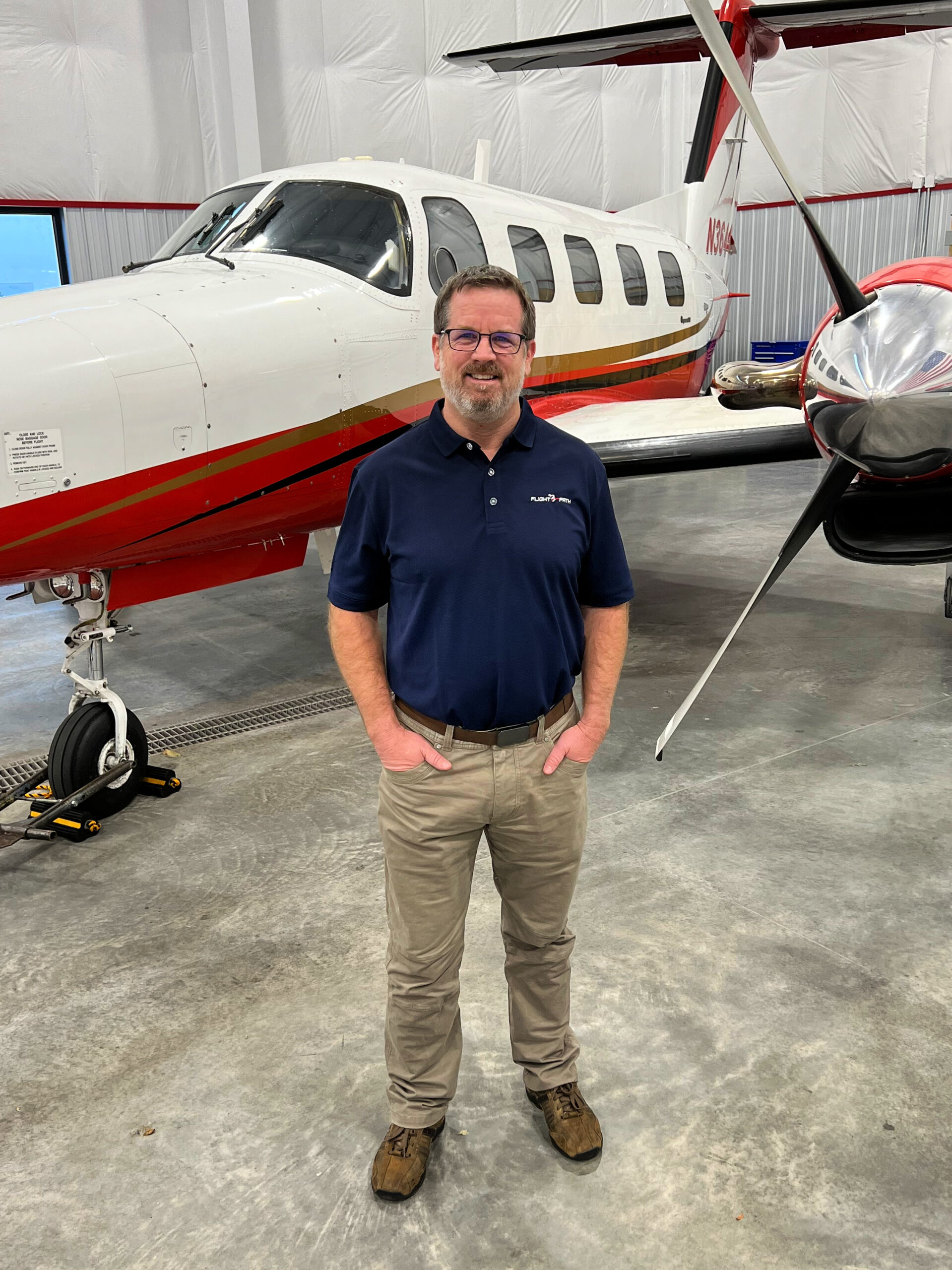 Mark Bos
Mark grew up in Hamilton and now lives in Holland.  He was always interested in flying and never knew it could be a career option until he entered Western Michigan University.  Mark started flying in college and graduated with a degree in Aviation.  He became a flight instructor and taught new pilots for a couple of years.  He then took a break to focus on family and a building a career in sales.  He currently works in sales for the Bradford packaging manufacturing company in Holland.  Mark's other passion is snowmobiling when there is enough snow!  In the last few years Mark has started flying again and is now a part time Flight Instructor at the Holland airport. He is enthusiastic about volunteering for the Flight Night program and loves to show young people all the exciting ways to get involved in aviation!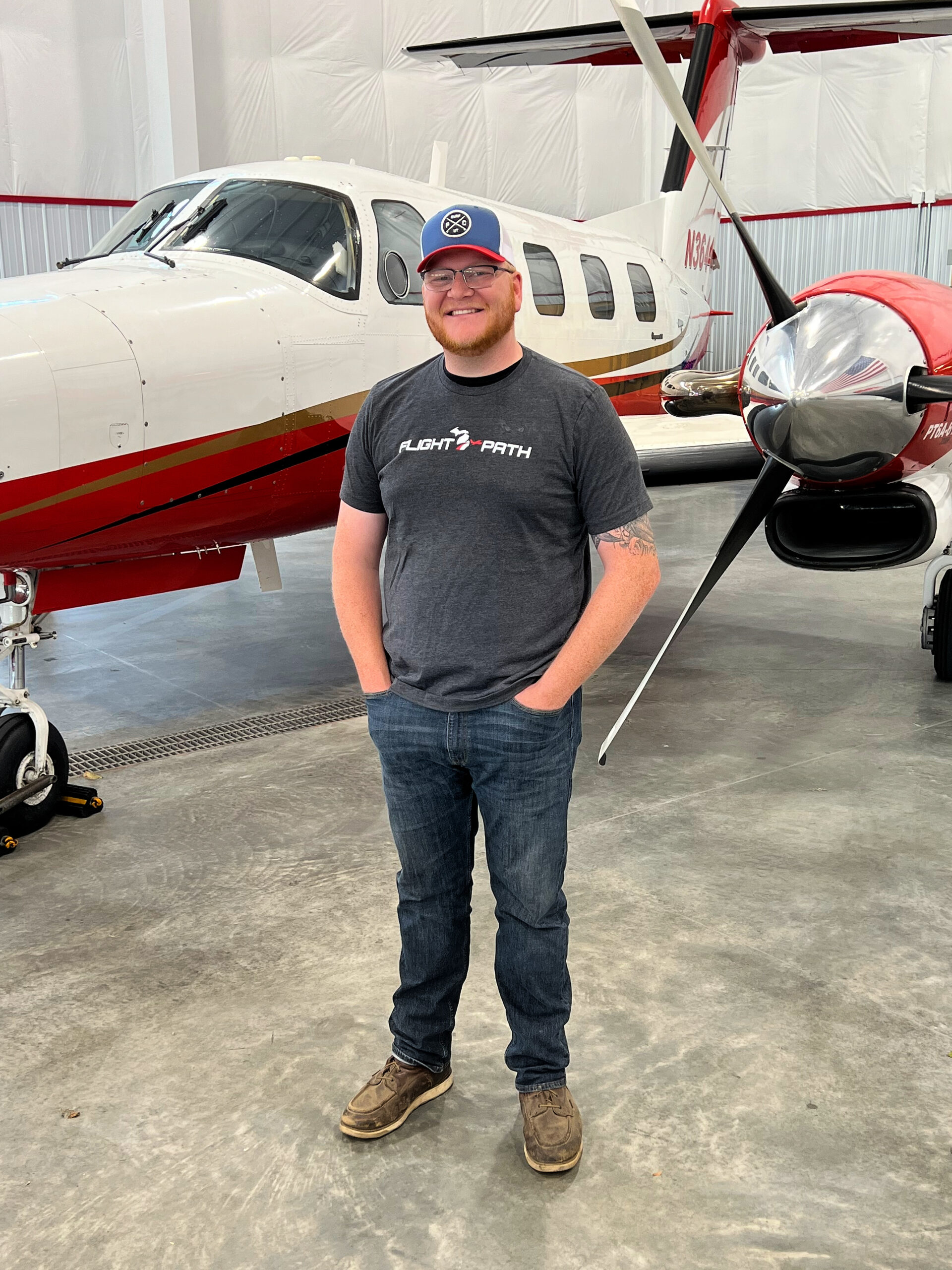 Dan Dix
Dan lives in Fruitport, MI.  He grew up in Allegan, MI and was interested in aviation as a child.  His family did not have the means to foster his interest but that did not deter his passion and determination.  At age 14 he would ride his bike after school 5 miles to the Allegan airport just to watch planes takeoff and land.  After several visits he was noticed by Jason the Airport Manager.  Jason saw Dan's enthusiasm and invited him to take a flight in his airplane, and Dan was hooked!  With money still an issue, he could only dream of flight at some future time.  Years later Dan joined the Army as a 15U Chinook Helicopter Mechanic, to keep his aviation dream alive.  In March 2022, he completed his flight training and finally became a Private Pilot. He is now working to finish his instrument rating.  While he was a student pilot Dan met the Flight Path group at the airport. Remembering his youth and his own desire to learn about aviation, Dan decided to volunteer with the Flight Night program.  "Flight Path provides an inside look into aviation at no cost to young people who may or may not ever get the opportunity to experience it….and I am proud to be a part of the program!"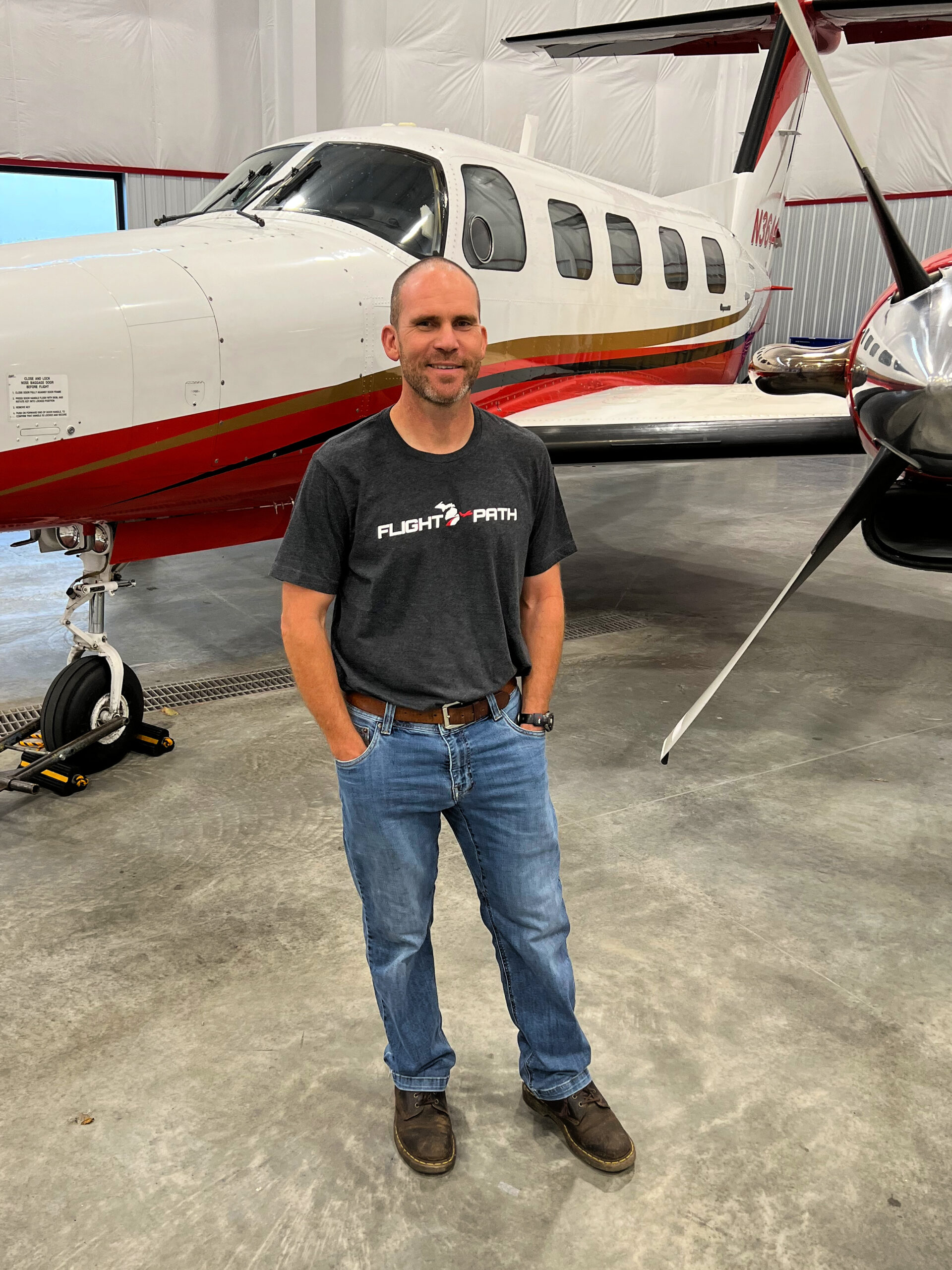 Todd Jensen
Todd grew up in western Michigan and lives in Holland. His passion for aviation started at age 14 with an airplane ride at the South Haven airport. He went on to earn his commercial pilot and flight instructor ratings while attending college. Todd currently works as a flight instructor and contract pilot.  He also serves as a board member of a local airport authority, and enjoys flying classic tailwheel airplanes. He volunteers for Flight Path knowing that he was given a similar chance to experience aviation at an early age. It is exciting for him to help present the opportunities that aviation offers youth through his volunteer work with Flight Path.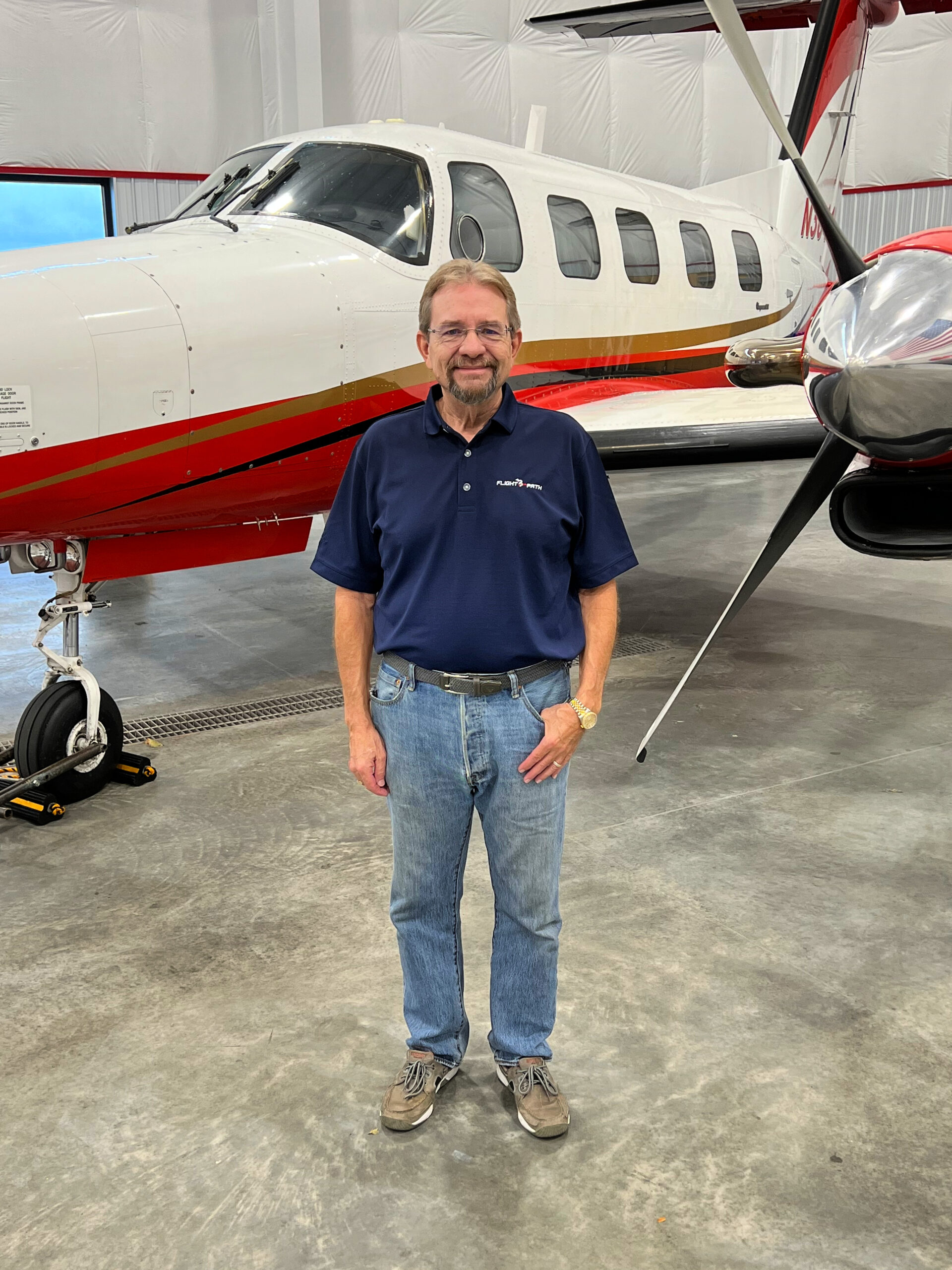 Doug Hekman
Doug grew up in an aviation family.  His father was a pilot since 1938.  His father's love of aviation inspired Doug to pursue aviation.  Doug had his first solo flight at 16 and earned his private license at 17.  He went on to earn his Instrument, Commercial, Multi, CFI, CFII and ATP ratings.   Starting as a flight instructor, he went on to become a commercial pilot flying for several organizations.  After flying for several years, Doug entered the business world, owning and managing several very successful national and international businesses.  Doug was voted Michigan's small businessman of the year in 2012, and spent a week meeting with people in Washington DC, including the President of the United States.  Doug and his wife Shar have been married for 45 years and have two grown daughters.  They attend Christ Memorial Church where their son-in-law is the lead pastor.  Doug's aviation training was all done in the Holland area which gives encouragement to the young people that attend the FLIGHT NIGHTS. "Flight Path is a great organization. I enjoy volunteering and sharing my aviation experience at FLIGHT NIGHT"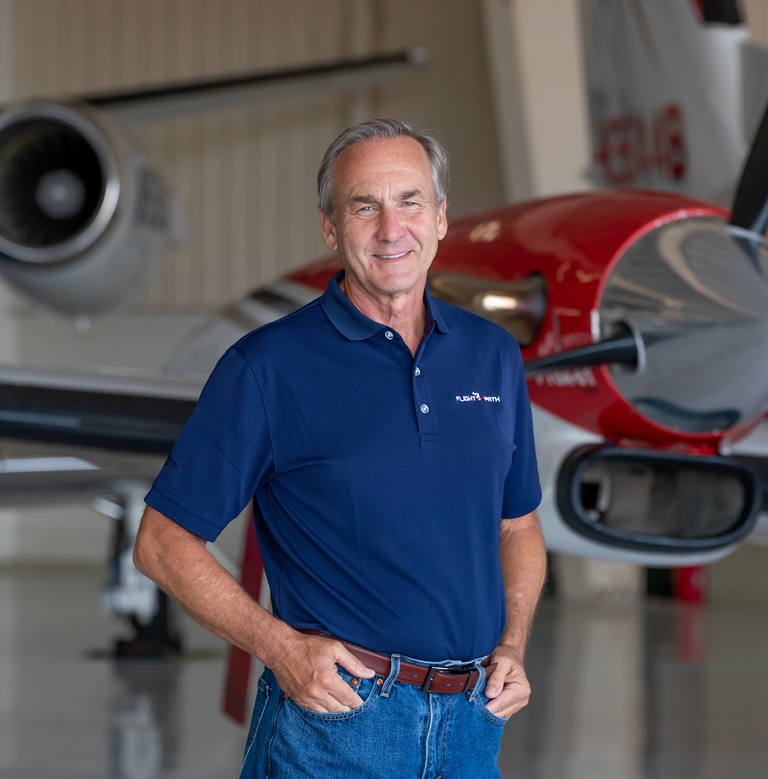 Jim Munslow
Jim's passion for aviation began in 1979 when he obtained his private pilot's license and subsequent instrument rating. This was his first experience of the joy and excitement of flying an airplane. After visiting the Detroit Radar Approach Control as part of his pilot training, he decided to pursue a career in Air Traffic Control and joined the FAA in 1982. Over the next 35 years in Air Traffic Control, Jim had the opportunity to work in a variety of aviation environments, including the busy Indianapolis tower, the quiet Ann Arbor airport, and also in the tower at the huge annual celebration of aviation in Oshkosh, Wisconsin.  He was the Air Traffic Manager for the Gerald R. Ford International Airport in Grand Rapids for twelve years before retiring from the FAA in 2017. After moving to Holland, Jim served briefly as the Airport Manager for the Park Township Airport. He enjoys sharing his passion with the next generation of potential pilots and air traffic controllers. Jim is a former Flight Path Board member.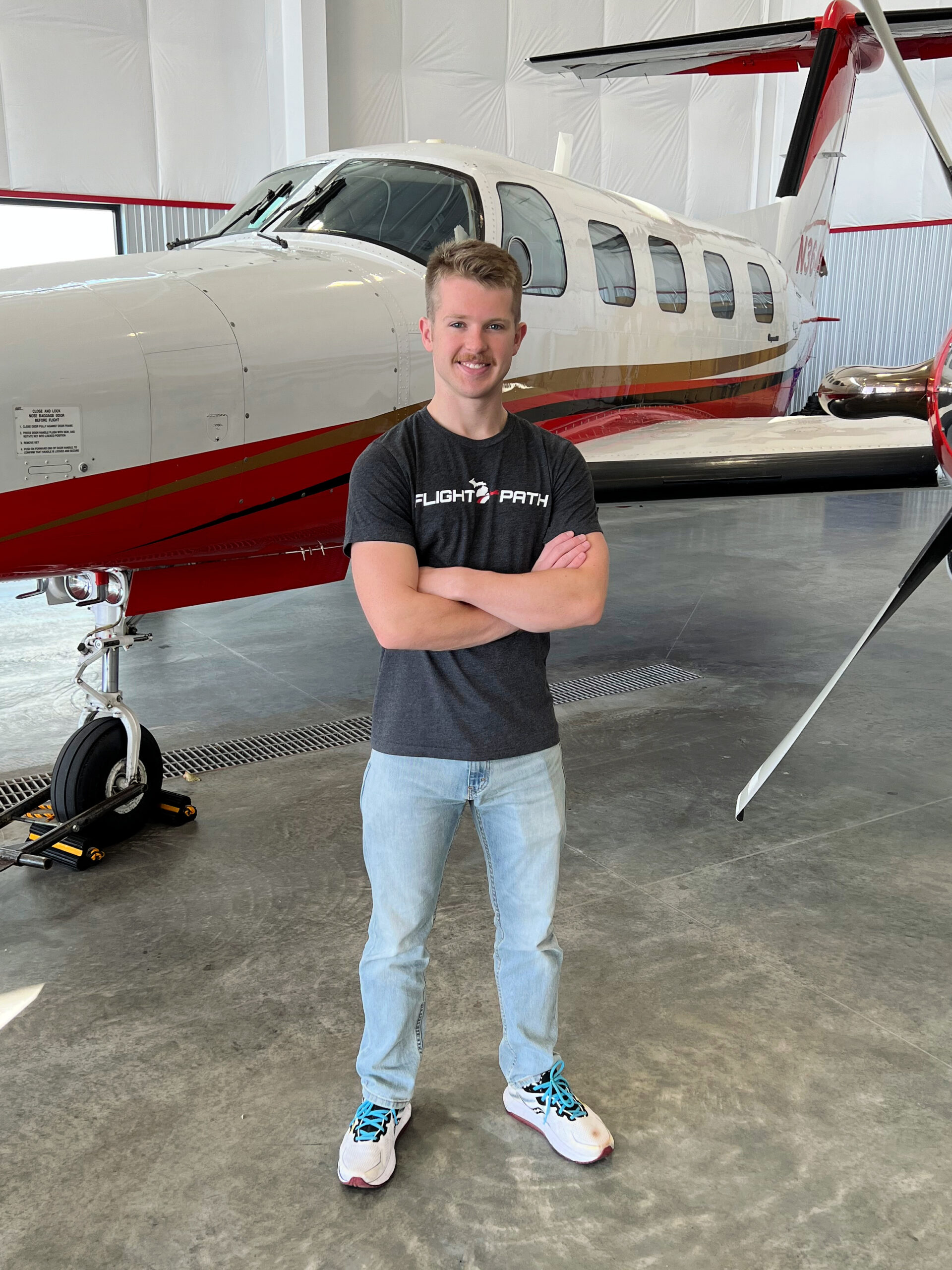 Anderson Bloemers
Anderson grew up in Holland, Michigan.  He became interested in aviation at an early age and says, "I think everyone is into airplanes as a kid, but some of us never grow out of it."  His interest was also nurtured by parents who, although not pilots themselves, had a love of aviation.  In 2021, Anderson earned his private pilot certificate at 17 years old. He is currently attending Purdue University, studying Mechanical Engineering Technology, and is a Midshipman in the Navy ROTC with hopes of becoming a Naval Aviator after graduation. He volunteers with Flight Path when he's home from school saying, "How could I not? I AM Flight Path." As "student 0" he was involved at the very the beginning, helping set up the simulators and developing the Flight Night program (in part due to the fact that his mom was on the Flight Path board).  He is excited to share his experience and inspire kids, who are not much younger than he is, to pursue their own dreams of flight.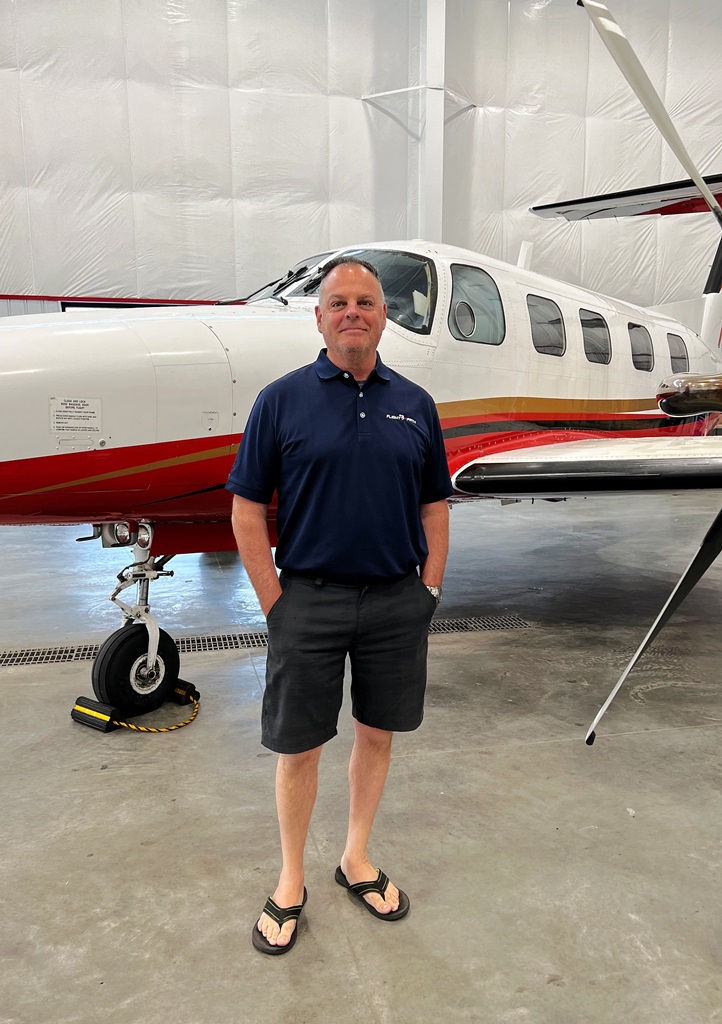 Peter Gani
Raised in southern Indiana, Peter remembers going to an air show at an early age with his dad and brother.  After getting a ride in a small plane, he was hooked! Though his family had no background in aviation, his father was a self taught student of aviation history and Peter adopted his love for it. Peter joined the Civil Air Patrol while in Jr high school in Portage, MI. He recommends it for a great experience!  He had dreams of joining the Air Force and flying fighter jets but his grades weren't good enough. Don't take the path of least resistance – STUDY HARD! Many years later after starting a family, he worked as a flight line technician, cleaning planes and hangars, etc. He started flying lessons at the Grand Rapids airport in 1996 at age 31. Peter was now very determined and got through all of his ratings in about two years.  He then worked for an aircraft dealership and built up flying hours.  Before long Peter was flying for several corporate operations in the west Michigan area.  He's had many excellent mentors in the aviation community and volunteers for Flight Path to encourage young people to learn more about aviation.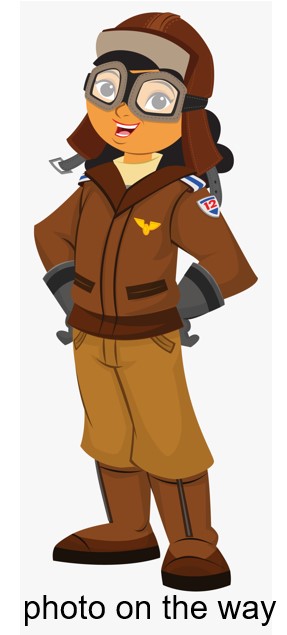 Morgan Duling
Morgan grew up in Louisville, Kentucky but now calls Michigan home. Her interest in aviation began with a love for travel. After graduating with honors at Western Kentucky University and taking a few years to explore, hike, and ski the world, Morgan launched into flight training and developed a passion for all things aviation. Much of her flight training was done in the Holland, Michigan area but it also spanned all the way to Phoenix, Arizona. Morgan currently works as a flight instructor (CFI/CFII) and serves as a chair on the Women in Aviation International Great Lakes Chapter, the Michigan Ninety-Nines.  She is also a Trustee on the Michigan Aviation Education Foundation. Morgan volunteers for FLIGHT NIGHT because she loves introducing young people to aviation. "If I had known that becoming a pilot was a realistic option for me, I would have started the process of becoming a pilot at an earlier age. Hopefully through volunteering at FLIGHT NIGHT I can encourage more young people to see aviation as a viable career for them."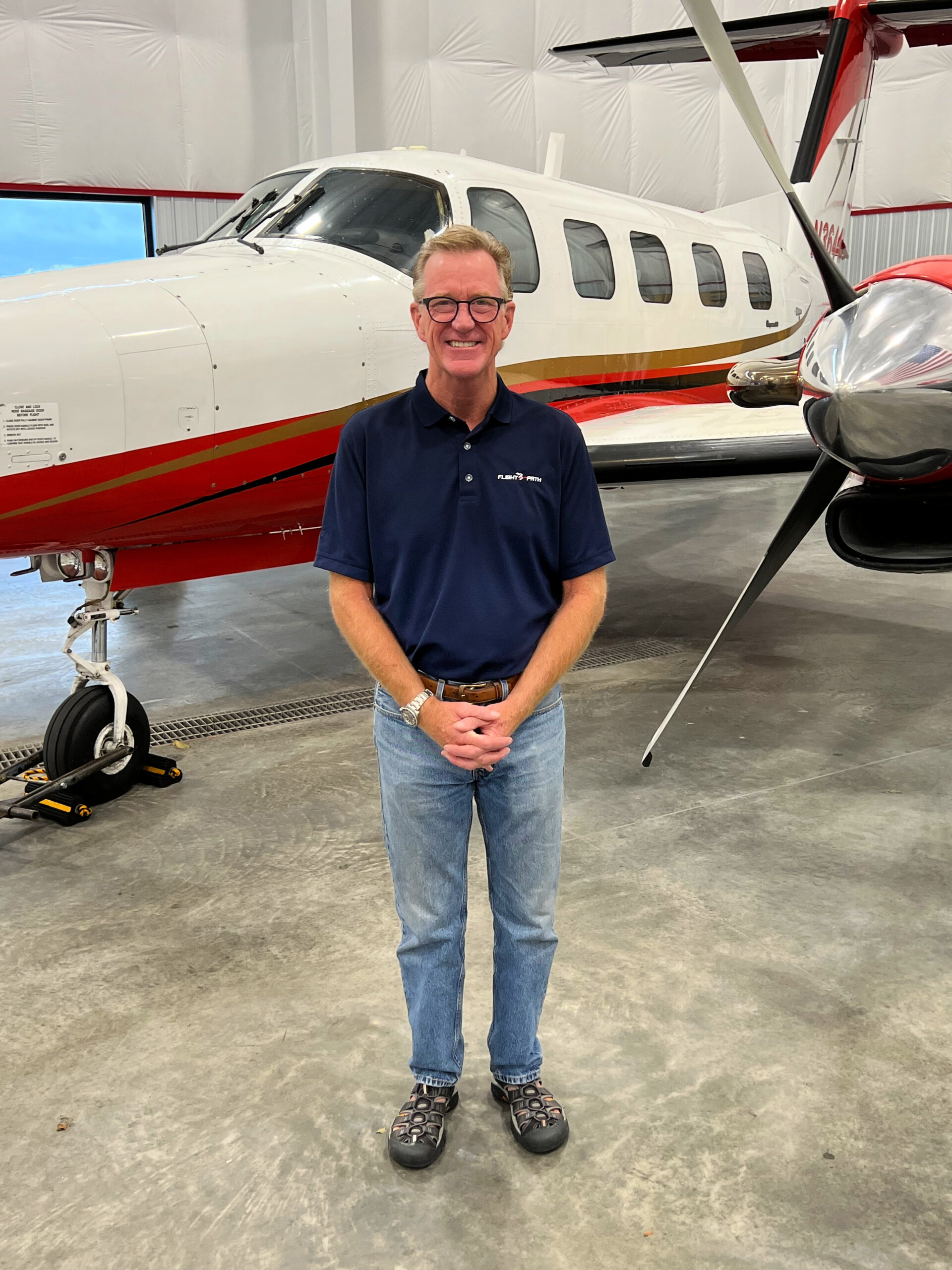 Bob Garlinghouse (emeritus)
Bob came to Holland Michigan via the US Navy. After graduating college at the US Naval Academy he attended the Navy's flight schools in Florida and Texas. In less than 2 years he was flying the T-28 Trojan, T-2 Buckeye and A-4 Skyhawk. Graduating near the top of his class he was selected to fly the F-14 Tomcat (made famous in the Top Gun movies).  Bob flew with the VF-14 Tophatters squadron onboard the USS Independence, which patrolled off the coast of Iran in the Indian Ocean. Bob left the Navy with his commercial, instrument and dual engine FAA pilot ratings, but put flying aside to focus on a career in business. He loves volunteering with the other passionate aviators at Flight Path to help young adults catch the aviation bug!  Bob wants everyone to know that the military path to aviation is a fun, (free!), and exciting way for young adults to learn how to fly the fastest coolest planes, all around the world!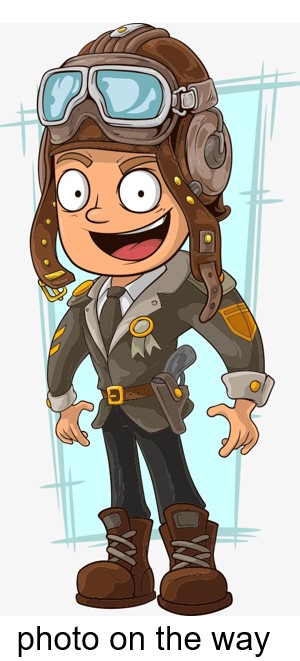 Tom Welling
Tom grew up in Holland and became interested in aviation in his teens. At that time his priority was education and he worked to complete an engineering degree from the University of Michigan. He was able to have various flying experiences in the military and later in his work with Prince Corporation in Holland. He always had an interest in getting his pilot's license but didn't seriously pursue it until 2019. He received his private pilot's license in early 2020 and is currently working on an instrument rating. He is a partner in a Cirrus SR-20 located at the West Michigan Regional airport. Tom volunteers at Flight Path to encourage students to chase their dreams in aviation, early! Tom says "It's never too late to become a pilot, and there are many other opportunities for great careers in aviation".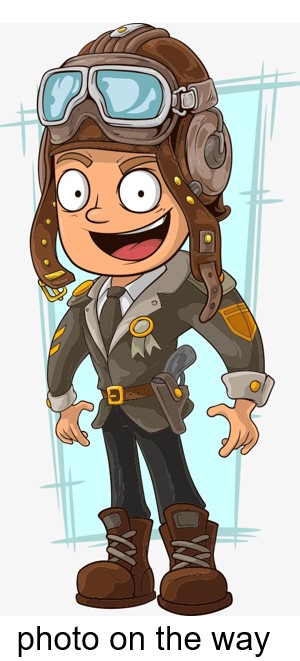 Michael Kortering
As a boy, Michael became interested in aviation through his grandfather who served in a B-24 squadron in Italy during WWII.  His grandfather took him to airshows, aircraft museums, and together they built airplane models.  After graduating from Hope College, Michael joined the Navy and was part of an F-14 squadron at Miramar, California. He was then deployed on the USS Kitty Hawk near the end of the Gulf war.  He had wanted to fly for the Navy but his eyesight didn't meet government standards.  He still achieved his aviation goal by earning a private pilot license with an instrument rating.  He is thinking about becoming an instructor.  He flies his RV8 out of Ottawa Exec airport in Zeeland.  Michael is also a member of a flying club in Grand Rapids that has C-172's, a C-182, and an SR20.  Michael's advice to young people who are interested in aviation is to just take an introductory flight and see if you like it!  He is always amazed by who likes to fly and who doesn't – it isn't always who you might think.  Michael volunteers for Flight Night because it gives him a chance to talk about planes and flying to young people and inspire them to try it out!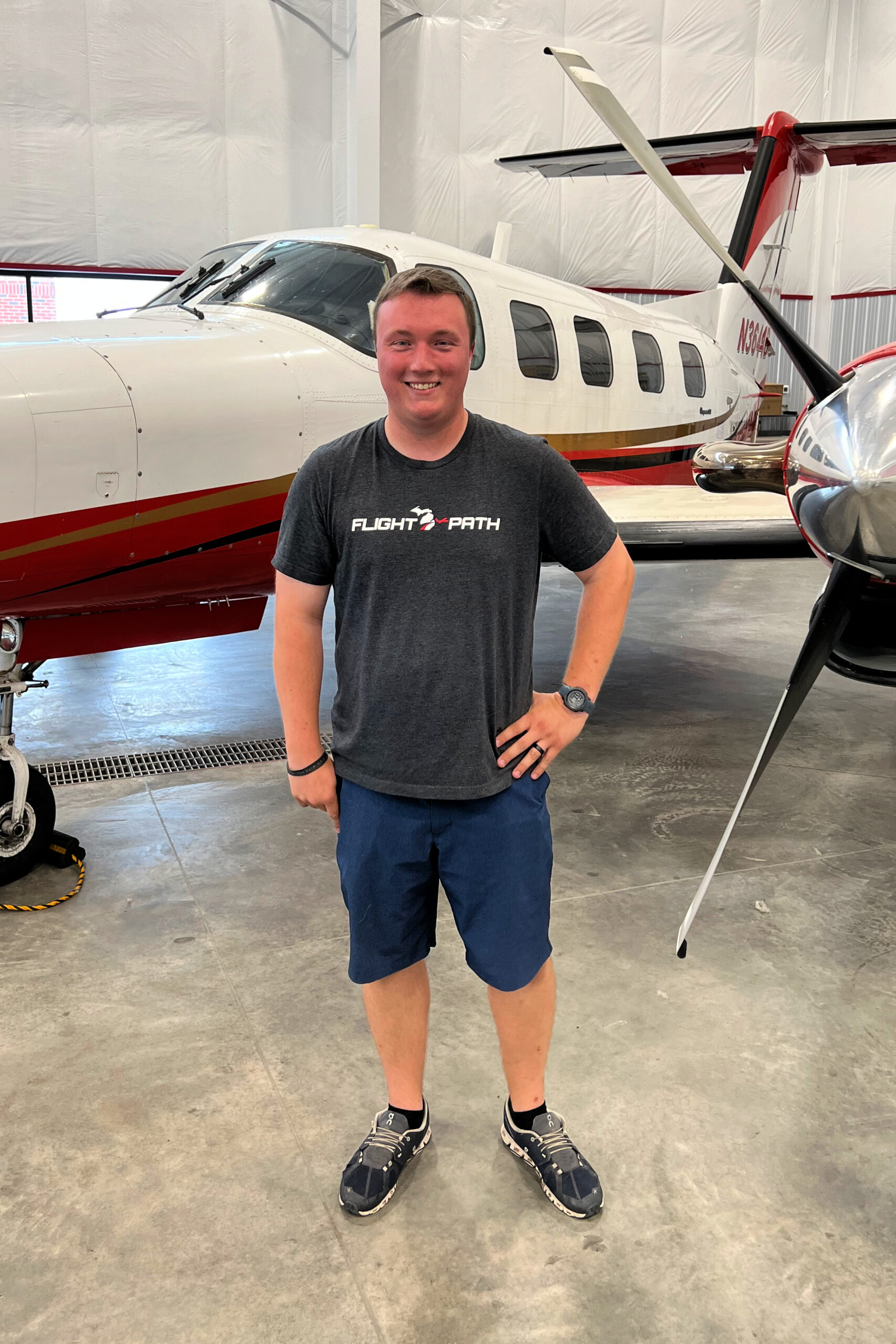 Alex Ezinga
Alex was born in Holland, Michigan but lived in Holland, Ohio for many years.  Alex was inspired by his grandfather, an aerospace engineer who had a small part of the Apollo 10 and 11 missions! With an influence like that he knew he wanted to fly from a very young age. He went to Western Michigan University and while in school Alex started working at Tulip City Air Service at the Holland airport. There he experienced all aspects of general aviation including customer service, line service, snow removal, flight instruction and even a little charter flying. He graduated from Western in 2017 with all of his flight ratings, Private and Commercial.  He then went on to get various Instructor and Airline Transport Pilot ratings.  With additional flying experience, he joined American Eagle and flew their regional jets until 2021. Since then he has been flying corporate jets out of the West Mi Regional Airport.  When not flying, there's a good chance you'll find Alex at the airport. His wife also works at the airport, and their dog Sadie is the Airport Authority Assistant Director!   Alex said "When I learned about the Flight Path Program, I wanted to be a part of it. I grew up with a great aviation influence in my life and if I ignite that same spark in someone else, I'll be thrilled."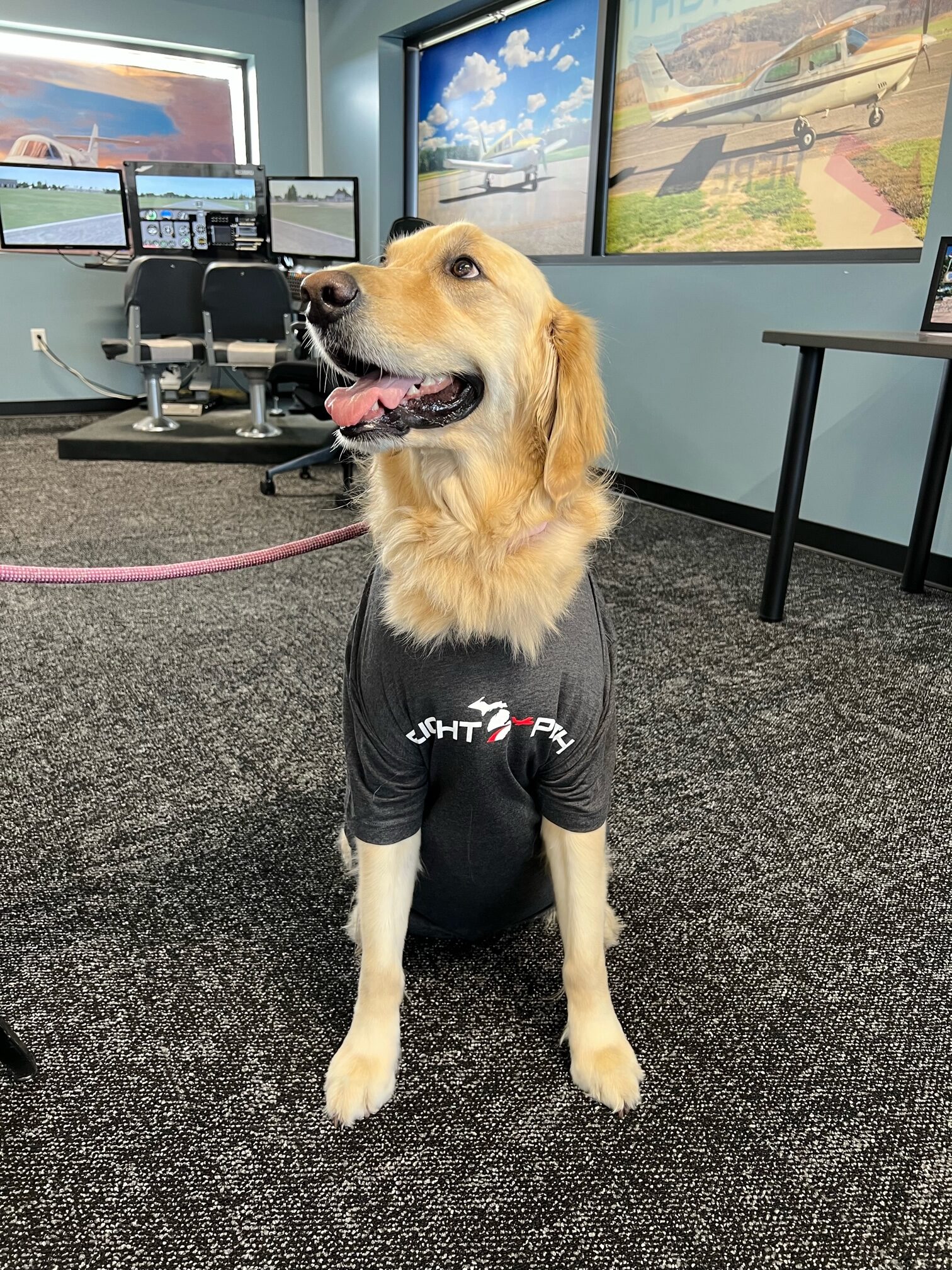 Sadie Ezinga
Sadie was born in Alma, MI in 2019. Little did she know she would be welcomed into an aviation family. At 6 months old she went for her first ride in the back of a little 2 seat Cessna, and quickly became a regular at the Holland Airport. By age 2 she became the Airport Authority Assistant Director, and at age 3 she had her first volunteer opportunity with Flight Path! Sadie has graduated from all of PetSmart's training programs including therapy dog introduction. Her eventual goal is to earn her therapy dog certification so she can visit hospitals, schools and of course the big airports to mingle with other Airport Assistant Directors!
Become a Volunteer
Please fill out the form and click submit if you are interested in opportunities to volunteer. We rely on our volunteers to share their love of aviation, provide instruction and career advice, and also show our Flight Night students how to fly flight simulators.
Become a Member
Become a Lifetime Member of Flight Path.  Make a $50 or more donation and receive a membership card and Flight Path shirt.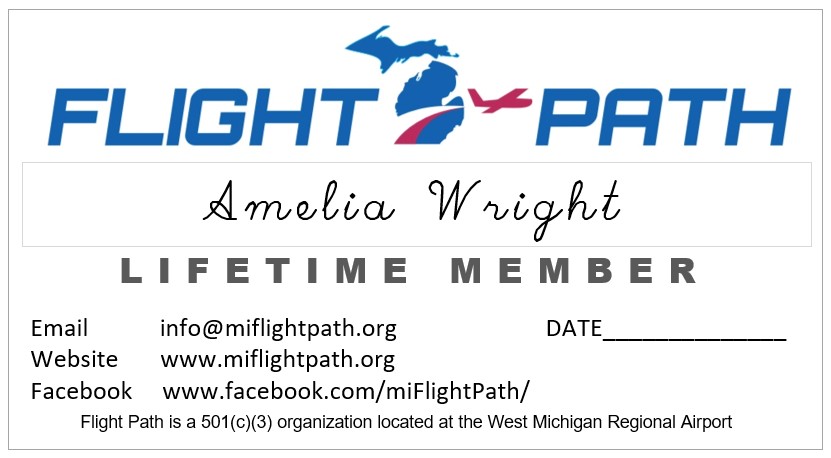 facebook
twitter (coming soon!)
instagram (coming soon!)
Telephone 616-368-1985
Hangar - 1581 Geurink Blvd, Holland, MI 49423